Guests!
---
The Mystery Guest!
Every year, Bork Con has one "Mystery Guest" - someone from the industry we keep as a surprise. This year our Mystery Guest is a well known voice actress who has worked extensively with several well known voice studios in Texas. You've likely heard her unique voice in quite a few places, and we're sure you'll love her panels. Who is she? Well, that's for us to know, and you to guess!
---
Sasha Parch (Voice Actor)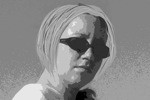 Initially entering the industry as a translator, it only made sense that Sasha (a natural born performer) would eventually move behind the microphone. Sasha began doing voice over acting for OMNIMAXUS Studios in 1995. Initially performing in background roles in Nihongo ga Hanasenai and Robo-Patrol 9000AD, she was cast in her first leading role as Aoi in Sundown Omega Force in 1998. She would go on to play Nina in the Wage Project franchise and Kimiko in Monkey Fist Deluxe.

She is currently head of localization and translation for OMNIMAXUS Studio.
---
Troy Harrington (Voice Actor)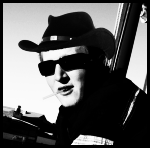 Troy Harrington has been working as a Voice Over Actor for over fifteen years. Best known as the voice of Wage Wengert in the WAGE Project OVAs, the long running WAGE Project: The TV, and WAGE Project: The Movie, he's also appeared in various Anime series and films including Itachiboi Ro Maho No Chunikku, Itachiboi Ro Maho No Chunikku 2: Nōtaimu Anata No Haha O Panchi Suru Ni Wa, Debirumonki Koto Gakko, Monkey Fist Deluxe, Nihongo ga Hanasenai, Robo-Patrol 9000AD, Werefreak: The Unmentionable, Naze Kotoshi Wa Suu~eden De No Kyuka O Tameshite Mite Wa, and Ichido, Musubitto Imoto. Troy has also appeared in videos games, most recently in Rage Binder: Unloaded as Kenshi.

Recently, Troy has begun work Directing for OMNIMAXUS Studios, working on several series including Blue Tide and Maximum Alfredo.
---
Trae Dorn (Webcomic Artist)
Trae Dorn draws and writes the webcomic The Chronicles of Crosarth, a Steampunk adventure. This is his first year as a guest at Bork Con, and he's excited to be there.
---
Ross Philbin (Webcomic Artist)
Ross Philbin draws and writes popular webcomic Invincible Mike and the Journeymen. Ross loves Bork Con, and he's very excited about it.
---
Otaku Tonight Productions (Fandom Guest)
Spawned in the mind of Christopher Sturz in 2011, Otaku Tonight set out to create the illusion of a professionally-run late-night talk show for nerds before expanding into other comedic territory. Featuring a cast and crew of incredibly talented and sort of funny individuals, Otaku Tonight Productions brings laughs to a notoriously unfunny convention landscape.

Otaku Tonight Productions is Professor Pher, Nick Izumi, Sydney Stafl, Amy Quinlan, Jason "DJ Liquid86″ Bruner, Kyle "Derb" Jahnke, Missy Kuntz, Gen Prock, Andrew "Kurtz" Hiss, Brad "DeadSid" Rabbie, David Capito, Erika Flanagan, and Beckerz Nelson. (Visit their Facebook Page)
---
Sean "SeanOrange" Corse and Kevin "Vinnk" Tambornino (Famicom Dojo)
Bork Con is proud to present Internet Television sensation Famicom Dojo! Famicom Dojo features the very best in retrogaming history, covering the classics we grew up with. Also, SeanOrange will wear a He-Man sheet as a cape.
---
Regdar and the Fighters (Musical Guest)
Wandering across the vast expanses of middle America, Regdar and the Fighters is a unique nerd-rock experience full of awesomeness, explosions and rock.

Mostly rock.

You can find out more about the band at www.regdarandthefighters.com